I finally did it! - New Tires
June 20, 2020
I've been too nervous to do this, but my preferred shop here is temporarily closed, other shops want $50 or more a tire, insane. So I finally caved and took it on myself.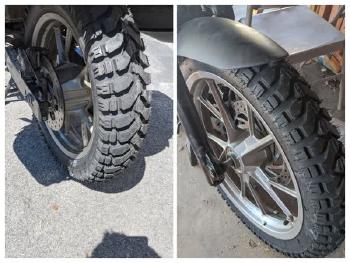 Now I'm actually not a total novice. I probably changed hundreds of bicycle tires as a kid, but less than a handful of dirt bike tires, but all with tubes. I've never had to break a bead or seat one, so this was a big deal.
I started with the front because the axle itself is easier to remove, and the tire being a bit smaller would be easier I thought. It was hell. Well, the 2nd side was.
See, I got the old one off easily, and was jazzed. I got the first half of the 2nd side on super fast. I was 70% on the 2nd side when I started to struggle, and thenpanic.
The tire did not want to stretch over, and when I tried to really force it I thought I heard tearing. Although I doubt I could actually tear anything in a tire, I know it is possible to damage the bead and mess up the seating. So I stopped. I re-assesed. After a few gentle checks I convinced myself the tire was too stiff, and I just A) had to go into the shop head hung low, and B) maybe destroyed my tire. I consulted Dr. YouTube and saw one chap suggest kneeling on the opoosite side to ensure it doesn slide up onto the rim's edge. So with another go , kneeling on the opposite side, lots of windes, and a strong fluid "it will happen!" movement, I popped it on – with minimal damage to my rim (there was damage).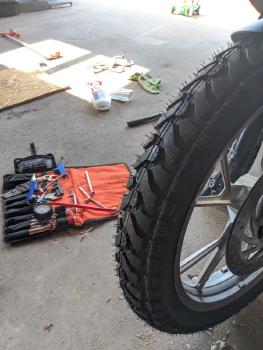 Looks good!
I'm proud at this point because A) I did it (or one) and B) I only used tools from my roadside kit!
Although I thought I almost lost a thumb when it got trapped between the rubber and rim getting the last of the last side over. I was able to use an iron and pry it up and out. Hurt like hell, but no major damage.
Next up, rear tire with chains and alignment added to the fun!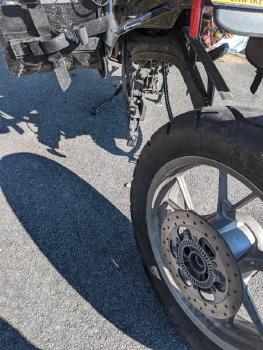 I took a break before the back tires and let them cook in the sun to warm up.
Holy goodness what a difference that made. I got through the new back tire in under 10 minutes, it slide right on, the last 80% WAS still very stiff and tight, but came over much easier than the front.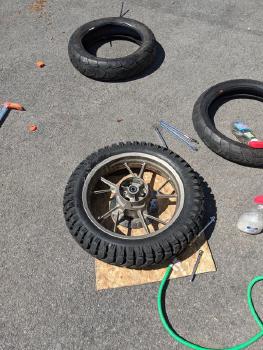 My BMW has a nice little indicator to keep the left&right side equal distance. So just measures the sag of chain, noted the depth, and adjusted the other side to match.
Both tires beaded, sounded like gunshots, what a heart jump that was, but I was still nervous if they set. A few more parnoid checks with windex and I confirmed everything was sealed up – and looking tough!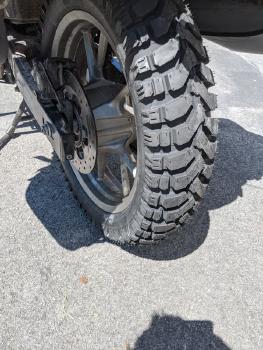 Test Ride
Father's Day not being until tomrorow my family was kind enough to let me take a quick test ride.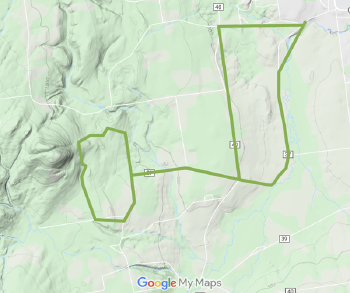 I picked a nearby mountain called Allen Hill and the difference was incredible. Although a short trail, its up and down the side of a mountain, and this time of year its got rocks, rivers, and ruts.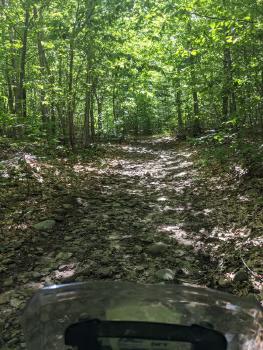 I took it easy on the big rocks, but I was delighted and shocked by how much more control I had in the mud.
Ah SHIT
And now as I write this I have a small heart attack noticing the front and rear treads point in opposite directions – which tire did I put on wrong?!?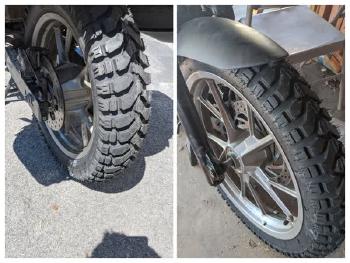 Turns out neither, the purpose of the tread is a bit different on front and back. The back tire is pushing forward against the tarmac, while the front is being pushed into it. So the pattern on front is focused on diverting the forwward momentum to the sides to stear, so it makes sense they oppose. You can google some good articles on this, and pay attention to the labels on your tires.